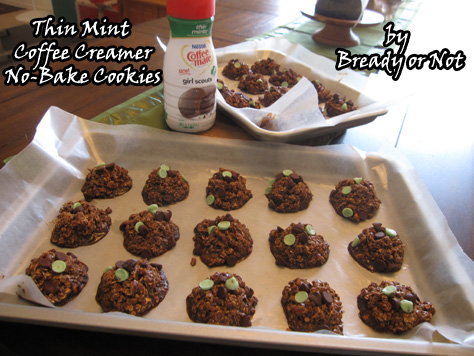 I learned about this earlier in the year when I discovered the wonders of Irish cream coffee creamer--but I'm saving those posts for closer to Saint Patrick's Day. The fact is, coffee creamer is fantastic in cookies, muffins, and all kinds of stuff that asks for milk, cream, or liquids.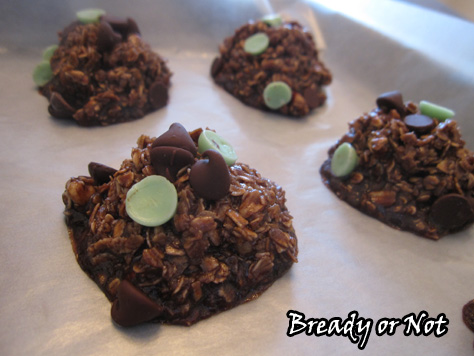 I decided to look at existing no-bake cookie recipes and create my own remix using Thin Mint-flavored creamer, but any minty type of coffee creamer should be fine here.
No-bake cookies are great for the holidays. They cook up quickly on the stove, keep very well in a covered dish in the fridge, and taste fantastic.
I bet they're even good with coffee.
Thin Mint Coffee Creamer No-Bake Cookies
A Bready or Not original recipe
Ingredients:
1/2 cup (1 stick) unsalted butter
2 cups white sugar
4 Tb cocoa powder, sifted
2/3 cup Thin Mint coffee creamer (or other minty flavor)
1/2 teaspoon peppermint extract
1/2 cup nuts (diced pecans, peanuts, etc)
3 cups quick-cooking oats
1/4 cup mint chocolate chips or peppermint bits
Directions:
1) Line two baking sheets with wax paper. (If you live in a hot environment, clear space for these cookie sheets in the fridge.)
2) In a large pot, melt the butter over medium heat. Add the sugar, cocoa, and creamer and stir regularly as it heats up. Allow the mix to boil for one minute, stirring constantly. Add the extract, nuts, and oats; mix everything together so it's all brown. Continue to heat for one minute, then remove from burner.
3) Use a tablespoon or scoop to form cookies on the wax paper. Give them a little space to spread. Using quick fingers or a spoon, press chocolate chips or peppermint bits onto the tops.
4) Let cookies set on counter or chill in fridge; they will get too soft if they're warm. Store in an airtight container in a cool place.
Makes about 27.
OM NOM NOM.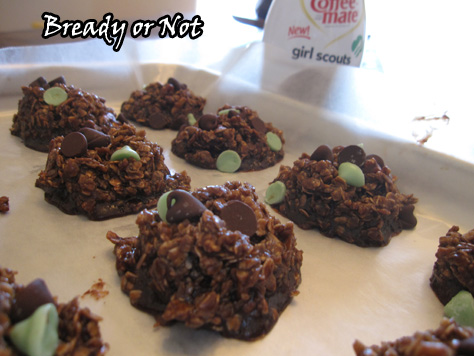 Most people see coffee creamer and they think of flavoring coffee. Pfft. No. I see flavored cream that is absolutely awesome for baking.