Every few months, I need to share a fudge recipe. Because reasons.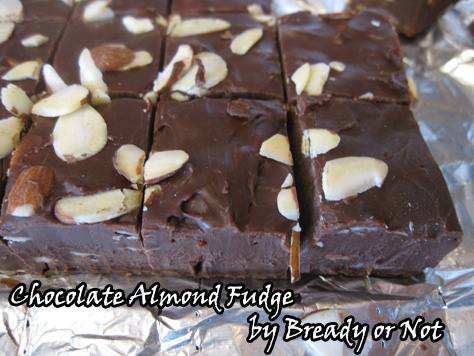 This fudge has all sorts of awesome going on. It's fast to make in the microwave, tastes great (even better after a day in the fridge) and keeps for at least a few weeks. The consistency is good, too--smooth, and holds up well if it's kept at room temp for several hours for a party.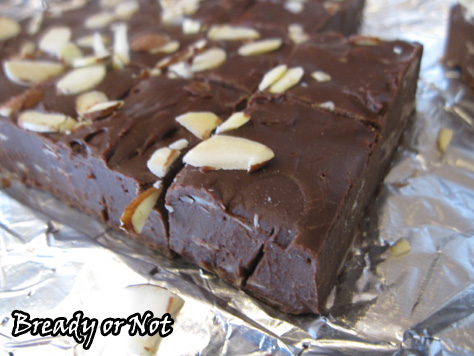 You can make this fudge as intense as you want, too. I did it with semi-sweet chocolate but if you love dark, go dark.
FUDGE. Glorious, happy fudge.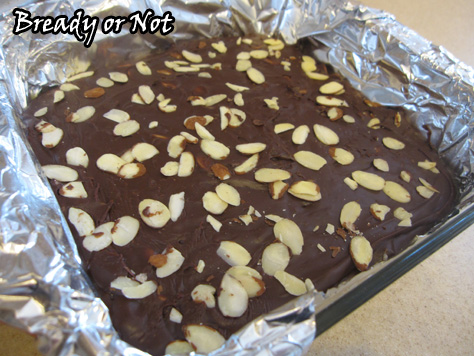 Chocolate Almond Fudge
Makes about 50 1-inch pieces
from
Barefeet in the Kitchen
14 ounces (1 can) sweetened condensed milk
12 ounces dark or semi-sweet chocolate chips (2 cups)
1/4 cup unsalted butter
1 teaspoon almond extract
1/2 cup sliced almonds, plus 1-2 tablespoons more for topping
1) Prepare a 8x8 or 9x9 dish by lining it with parchment paper or aluminum foil. Grease the surface.
2) Combine the condensed milk can, chocolate and butter in a medium size glass bowl and heat in the microwave for 40 second increments. Stir well, then heat another 20 seconds, stir again. Continue to heat and stir until the mix is smooth.
2) Add in almond extract and almonds. Pour everything into the ready pan. Chill for at least 3 hours, or overnight. Like many chocolate recipes, this tastes even better after a full day. It keeps well, sealed in the fridge, for at least two weeks.
OM NOM NOM!