Bready or Not: Slow Cooker Chipotle-Style Shredded Beef
Each Wednesday I share a recipe. Feel free to print it out or pin on Pinterest. Recipes are meant to be shared, just like the good food they inspire.
Chipotle is one of my very favorite restaurants. The food they serve up is fresh tasting and super delicious. However, I haven't eaten there in over six months. Why? I've been more careful about what I eat, and their portion sizes are huge. If I go there, I have to go for lunch and then I'll only need a light snack for dinner, and probably finish my leftovers the next day.
So when I saw a recipe on Pinterest that claimed to replicate Chipotle's shredded beef, I was all over that. But the recipe needed tweaking. It was for a pressure cooker, and I don't have one of those. I needed it to work in a crock pot. All the risk was worthwhile. The recipe was so good that my husband told me I
had
to make it again. This one's a keeper.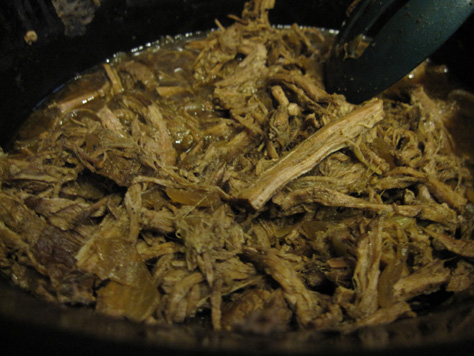 A note about the chipotles in adobo sauce: if you like a lot of heat, blend the peppers and sauce beforehand, or leave the peppers in when you eat. As for me, I can't handle the heat. I placed three chipotle peppers in the pot and then removed them near the end; if you don't want any heat, don't use the chipotles at all, or add a few sprinkles of red pepper flakes. Adapt the recipe to the level of spiciness you like.
Recipe adapted from
Six Sisters' Stuff
.
Slow Cooker Chipotle Shredded Beef
Ingredients:
3 pounds beef eye of round or bottom round roast, all fat trimmed
5 cloves garlic
1/2 medium onion, finely chopped
1/2 lime, juiced and zested
2-4 chipotles in adobo sauce (to taste)
1 tbsp ground cumin
1 tbsp ground oregano
1/2 tsp ground cloves
salt and pepper
3 bay leaves
1 teaspoon oil
1 can low-sodium beef broth
Directions:
Place the garlic, onion, lime juice and zest, cumin, oregano, ground cloves, and beef broth in the slow cooker and stir together.
Trim all the fat off the meat and cut the roast into 4 inch chunks. Season with salt and pepper and brown on high heat in 1 teaspoon oil. Once it's browned on all sides--not cooked, just browned--add the meat to the crock pot. Add the chipotle peppers in adobo sauce and bay leaves.
Cook for 8 hours on LOW or 4 hours on HIGH.
Once it's cooked and the meat proves tender enough to shred with a fork, remove all of the meat and place on a platter. Discard the bay leaves (and the chipotles). Shred the meat with two forks and then return it to the pot. Simmer uncovered for about 10 minutes to let the flavors penetrate.
There are several ways you can serve this at the end. I ate it like a Chipotle burrito bowl, layered with salad greens, shredded cheese, pico de gallo, cilantro lime rice, and sour cream. My husband ate the meat and rice. It's also really good (fresh or as leftovers) as a quesadilla. Wrap it in a tortilla. Mix it with a simple salad. Freeze it and pull it out again later. However you decide to gobble it up...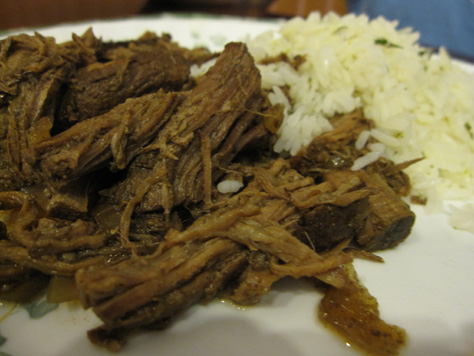 OM NOM NOM