Bready or Not: Chocolate Chip Pound Cake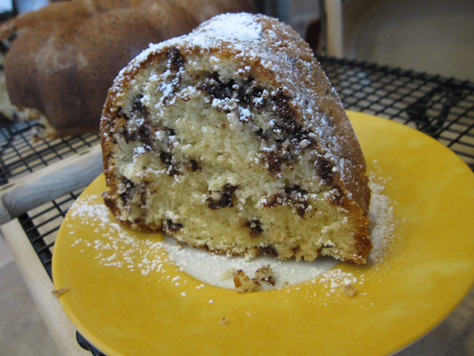 Since it's a big holiday for cook-outs and BBQs, I'm sharing a recipe that's big and awesome and ideal for serving a crowd. This chocolate chip pound cake is just plain delicious. It has that perfectly tender pound cake center, the slightest firmness to the crust, and chocolate. Lots of chocolate throughout. It also makes for a delicious, sugar-powered breakfast. Who needs caffeine when you're powering your day with something that has almost 2 cups of sugar inside?!
I made this using all-purpose flour. The cake flour is by no means required to make a tender, perfect cake here.
Chocolate Chip Pound Cake
Recipe from
Fine Cooking.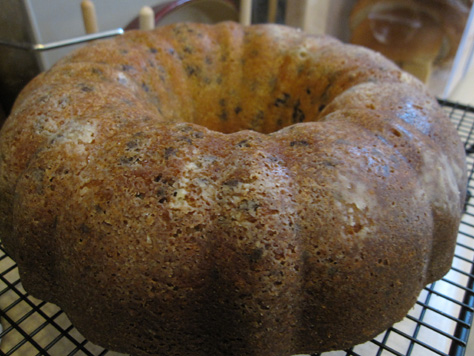 1-1-1/4 cups (2.5 sticks) unsalted butter, room temperature
2-1/2 cups cake flour or 2-1/3 cups unbleached all-purpose flour; more for the pan
1-1/2 tsp baking powder
1/2 tsp table salt
1-3/4 cups granulated sugar
2 large egg yolks, room temperature
3 large eggs, room temperature
2/3 cup whole milk, room temperature (or warmed in microwave)
4 oz very finely chopped semisweet chocolate or 2/3 cup mini semisweet chocolate chips
1-1/2 tsp. pure vanilla extract
Confectioner's sugar (optional)
Position a rack in the center of the oven and heat the oven to 350°F. Butter or spray a 12-cup Bundt pan, dust the pan with flour, and tap out the excess. In a small bowl, whisk together the flour, baking powder, and salt until combined.
In the bowl of a stand mixer fitted with the paddle attachment, beat the butter and the sugar at medium speed until light and fluffy, about 2 minutes.
On low speed, beat in the yolks until smooth. Stop the mixer and scrape the bowl and the paddle. With the mixer running on medium-low speed, add the whole eggs, one at a time, mixing for at least 20 seconds after each addition. Stop the mixer and scrape the bowl and paddle again.
With the mixer running on the lowest speed, add half of the flour mixture and mix just to combine, add the milk and mix until combined, and then add the remaining flour mixture and mix just until combined. In other words, combine stuff.
Scrape the bowl one last time, add the vanilla extract, and mix at medium speed until the batter is smooth and fluffy, 20 to 30 seconds. Fold in the chocolate.
Scrape the batter into the prepared pan and spread it evenly. Run a knife through the batter and tap the pan against the counter to dislodge trapped air. Bake until golden brown and a toothpick inserted in the center comes out with only moist crumbs clinging to it, 45 to 55 minutes.
Cool in the pan for 10 to 15 minutes and then invert onto a wire rack to cool completely. To make it extra pretty, sprinkle the cake with confectioners' sugar before serving.
OM NOM NOM.
Happy Independence Day to my fellow Americans! Happy regular ol' Fourth of July to everyone else!